DeKalb emergency precinct shifts for June 9
For more details, scroll down to bottom of post to read pdf of changes
Ashford Parkside precinct voters will shift to Montgomery Elementarry School;
Clairemont East precinct voters will shift to Decatur Recration Department;
Coralwood precinct voters will shift to Briarlake Elementary School;
Dunwoody 2 precinct voters will shift to Dunwoody High School;
Embry Hills precinct voters will shift to Evansdale Elementary School;
Georgetown Square precinct voters will shift from Dunwoody Pines Retirement Home to Peachtree Middle School;
Glennwood precinct voters will shift to Decatur Recration Department;
LaVista precinct voters will shift to Margaret Harris Educational Center;
Lin Mary Lin precinct voters will shift to Neighborhood Church;
McWilliams and Miller Grove precinct voters will shift to Miller Grove Middle School;
Midvale Road and Henderson Mill School precinct voters will shift to Henderson Mill Elementary;
Mt. Vernon West precinct voters will shift to Dunwoody High School;
Northlake precinct voters will shift to Briarlake Elementary School;
Oakhurst precinct voters will shift to Decatur Legacy Park, Cochran Building;
Pleasantdale Road precinct voters will shift to Evansdale Elementary School;
Rehoboth prencint voters will shift to Lawrenceville Raod United Methodist Church;
Skyland precinct voters will shift to John Lewis Elementary;
Tilly Mill precinct voters will shift to Dunwoody High School;
Winnona Park voters will shift to Decatur Legacy Park, Cochran Building; and
Winters Chapel precinct voters will shift to Kingsley Elementary School
See the list of emergency polling place changes.
---
Last week of advance voting
This week, June 1-June 5, is the last for early voting in the June 9 primary. Click here for DeKalb County early voting locations and hours.
---
Original post (updated 5/31)
By Jonathan Grant
@Brambleman
In a special called meeting teleconference Friday, the Dekalb County Board of Elections voted unanimously to authorize Elections Director Erica Hamilton to relocate polling places in response to the the Covid-19 pandemic. Even so, the situation remains unsettled, which explains why Board Member Dele Smith's motion changes gave Hamilton wide latitude to make further changes as necessary.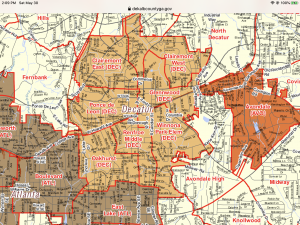 An attempt to relocate three City of Decatur precincts to  Maloof Auditorium in downtown Decatur didn't work out. Now, four Decatur precinct voters–Clairemont East, Glennwood, Oakhurst, and Winnona Park– will vote at new locaitons:Clairemont East and Glennwood have shifted to the Decatur Recreation Department; Oakhurst and Winnona Park have shifted to Decatur Legacy Park's Cochran Building. Other changes previously posted remain in effect, but it would be wise for voters in all affected precincts to check back with the DeKalb Board of Elections website, because the situation remains in flux.
Voters in many North DeKalb precincts will have a longer trek to the polls June 9. This includes five Dunwoody precincts. Voting absentee or early  are increasingly attractive options, especially in those sites that will serve three precincts on Election Day: Briarlake Elementary, and Evansdale Elementary, as well as the Maloof building. Dunwoody High School becomes a polling location for two nearby precincts. Miller Grove High School, the only location in South DeKalb to take on extra precincts, could see big crowds as well. (See list below, along with complete details in the pdf reader at the end of the post.
To check out early voting sites and hours of operation, click here.
Senior centers were removed as June 9 polling sites due to concerns of infection. Several churches were declared off-limits, as well. While Hamilton said the DeKalb County School System has agreed to maintain schools as poll locations, Coralwood is being torn down, and the City of Atlanta is not making Mary Lin Elementary School available for voting. Board Chairman Samuel Tillman said that polling places would be disinfected before and after voting, and suggested that more changes may be necessary if circumstances change.
---
About those drop boxes
DeKalb County should have at least a dozen drop boxes for depositing absentee ballots, but installation has been delayed for most of them. Still no word on where most of them will go, but here's where they are, as of now.
There are currently four absentee ballot drop box locations listed on DeKalb Board of Elections webstie:
 Exchange Park – 2771 Columbia Drive Decatur, GA 30034,
Brookhaven City Hall –  4362 Peachtree Rd NE, Brookhaven, GA 30319
Stonecrest City Hall – 3120 Stonecrest Blvd., Stonecrest, GA 30038
4380 Memorial Dr., Decatur, GA 30032.
---
DeKalb polling site changes for June 9 
Here is an up-to-date list of precinct changes for June 9 polling sites in DeKalb
Precinct Changes as of 5.30.2020 (5)
This is a copy of  the changes discussed and approved at Friday's called meeting. Distances listed at back may not be precisely accurate.

Liked this post? Follow this blog to get more.