Above: "I love Georgians. The grit. The energy. The determination to make the best even better. That's why I'm running for PSC; to give a voice to those determined to make it better."–John Noel  (Website)
---
Tweets of the day
John Noel ain't having it with Georgia Power's heartlessness
Noel: "How can a company like Georgia Power that made 1.7 BILLION last year, with a CEO that makes $13,000 a day pull the plug on hurting Georgians while Covid-19 and unemployment run rampant with no end in sight?
I can't believe what I'm reading folks. People need relief, not more grief.
Read story here. 
Georgia Power wants to resume disconnections?? You made $1.7 billion last year. A hundred year monopoly and ya can't help out when the going gets tough? I got it. I got it. Folks, elect me and I'll tell 'em WE THE PEOPLE are their boss. https://t.co/Nx1Xi5OB4h pic.twitter.com/0uenZ6Ne34

— John Noel (@NewEnergyGuy) June 4, 2020
Signs of progress in deep-red Georgia
Democratic Senate Primary
"The greatness of a nation and its moral progress can be judged by the way its animals are treated."                  — Mahatma Gandhi
Passionate about policy, the Emory Law graduate talks about using government as a tool "to help people lead their most prosperous lives." But not just people. Her Save-a-Pet program was remarkably successful and received a "Bright Ideas" award from Harvard's Kennedy Business School. The Columbus animal shelter had an 80 percent euthanasia rate when she took office. In 2017, the year of the award, the city was declared a "no-kill community."
Teresa Tomlinson loves animals. She became involved in rescue efforts decades ago, when she lived in Decatur. After she moved to Columbus, she took it to the next level when a stray dog had six puppies in the crawl space of the home she shared with her husband, Wade.
(Read more)
---
In addition to the Presidential election and two senatorial campaigns, Georgia has two Public Service Commission seats on statewide ballots this year. Here are a few of the issues we face: Plant Vogtle's skyrocketing costs, green energy, coal ash, and energy equity. Not to mention the price we pay for utilities. So let's not forget about them.As I mentioned, there are two PSC seats at stake this year. Environmentalist John Noel is running against Daniel Blackman in the Democratic Primary for the North Georgia seat. The winner will face GOP incumbent Bubba–that's right, Bubba–McDonald in November.
Unfortunately, Public Service Commission races are receiving absolutely no coverage in the media. Nevertheless, voters are receiving absentee ballots and researching races. Here's some background: I wrote a profile about Noel back in 2017. He ran in 2018, coming in second in the Democratic primary. He's still the same guy, still pushing for change at the PSC.
John now lives in Augusta to run for the District 4 seat. The districts, with their residence requirements, were created a generation ago as an homage and throwback to the old county-unit days. Anyway, it's a statewide race and a contested primary. And I still haven't seen one word about it in the AJC or any specific coverage of the race in any media. So please spread the word: John is a walk-the-walk environmentalist and consumer's best friend. Did you know the PSC set Georgia Power's allowed rate of return above the industry average? John would move to lower that. Want to know more? Visit his website or Facebook Page.
Sign the Petition
Upcoming: Thursday, June 4 –TONIGHT!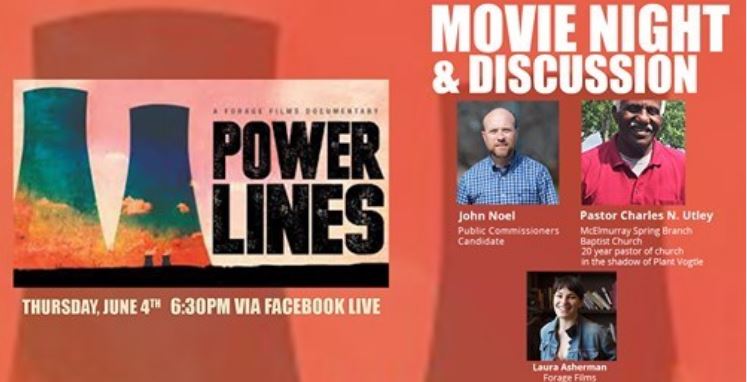 Tonight: Thursday, June 4: Watch the premiere of the Power Lines film. Created by Laura Asherman of Forage Films. The film covers GA Power and Plant Vogtle.
Join John, Laura, and Rev. Charles Utley of McElmurray Spring Branch Baptist Church for the screening and post discussion on Thursday at 6:30 PM!
You can join live at https://bit.ly/powerlineslives!
Watch most recent town hall
And check out this Youtube some indy journalists produce about Noel's environmentalism.
---
Voting Rights
In March, Noel attended an "Emergency" Georgia State Election Board meeting, prepared to give a statement backing the Athens-Clarke County Board of Election's decision to scrap the state's Jumbotron ballot-marking screens and go with hand-marked paper ballots. He was not allowed to give it. The Board didn't want to hear from voters. I wrote about the debacle. You can view my post here.
Democratic nominee Robert Bryant
Robert Bryant of Savannah is the lone Democrat to qualify for the South Georgia seat. He will face Jason Shaw, who was appointed to the PSC by Nathan Deal. Shaw quickly showed his loyalties by voting to raise Georgians' electric rates and allow Georgia Power a higher than average rate of return. Bryant, like Noel, is pro-consumer, so the choice is pretty clear, especially since all PSC members are Republicans. They quit doing their jobs years ago, with some help from the GOP-dominated General Assembly.
You can follow Robert Bryant on Twitter. 

Liked this post? Follow this blog to get more.