---
By Jonathan Grant
@Brambleman
First of all, let's not forget the possibilities here. Georgia's status as a 2020 presidential battleground and its two Senate races make it arguably the most crucial state on the electoral map. Both seats are in play, and both incumbents are vulnerable.
Kelly Loeffler goes deplorable early and often
Sen. Kelly Loeffler, who has spent her short time in office pledging loyalty to all things Trump and ignoring evidence in the president's impeachment trial, still doesn't know if she'll draw major GOP opposition in the November jungle primary. The fact that she furiously trying to colled MAGA creditss shows she's scared. It's working, though. She got a retweet from the president, althoughshe had to RT another senator tweeting about a third senator to score the Trumpfecta.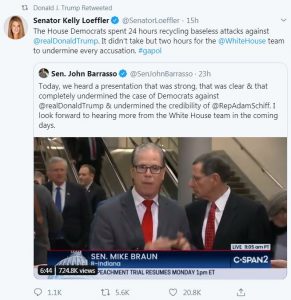 I'm going out on a limb here and predicting she won't hold any town halls. Especially when she decides to tweet out nonsense like this. 
She's super-rich, worth a half-billion dollars,and she'll likely run a TV campaign, with an eight-figure budget and staged public appearances. Coming out of the gate as a hyperpartisan Trump sycophant, Loeffler has already written off half the state (OK, more than half) as socialist, and is not polling well. I'm not going to predict a Democrat will win this seat, but if Doug Collins challenges Loeffler, I don't think she even makes a runoff.  We'll see.
Whoever wins the special election to replace Isakson must run again in 2022, when Gov. Brian Kemp and other statewide GOP officeholders are up for re-election. That will be a pitched battle, too, with a rejuvenated, even more organized state Democratic Party heading into its third battle of the Resistance.
---
How bad can he be?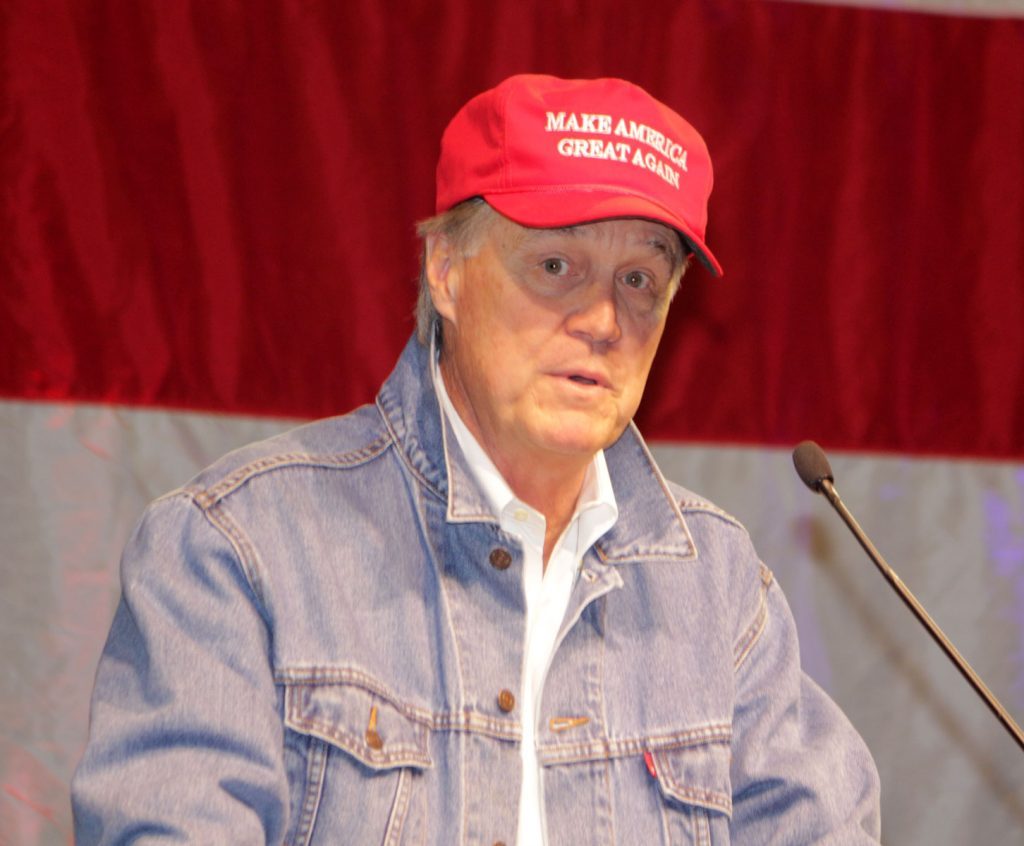 Then there's Georgia's other Senate race–more consequential, since it's for a full six-year term. No senator is more MAGA than Perdue. His rhetoric on impeachment matches Loeffler's scoffing dismissal, and his fate is largely tied to Trump's, because his MAGA hat is on too tight.  If Perdue goes down, he'll take Trump with him in Georgia.
"I could stand in the middle of Fifth Avenue and shoot somebody and I wouldn't lose any voters," Trump once declared. And Perdue would be the first person not to notice, because he's a see-no-evil guy when it comes to Trump.
A man with no governmental experience, but plenty of rich-guy arrogance, Perdue came to Washington, D.C. touting his intent to balance the budget. Instead, he voted for disastrous tax cuts for the rich that have ballooned the deficit. He also fumbled on hurricane relief for South Georgia.

Scandal-plagued Scott Pruitt is gone, but Perdue's anti-environmentalism persists. He has a whopping 1% rating from the League of Conservation Voters, and he's a climate-science denier. Who lives on an island. How clueless is that? He called family separations at the border a "shiny object of the day" for the media, irritated that he wasn't getting coverage on his issue, the budget. He's just not good at this.
Is Perdue's seat winnable?
So far, four candidates have signed up to challenge Perdue: Teresa Tomlinson, former mayor of Columbus; Ted Terry, mayor of Clarkston; businesswoman Sarah Riggs Amico, who lost the lieutenant governor's race last year; and Jon Ossoff, former Sixth Congressional District candidate, who lost to Karen Handel in 2017.
The well-funded incumbent is favored to win, but Georgia is quickly turning purple. Stacey Abrams came close to victory in the 2018 gubernatorial race. And the voting demographics for Republicans in Georgia are growing bleaker. For some light reading on a plan to turn Georgia blue, read Stacey Abrams' Playbook. Abrams how other campaigns can win. Partly, this involves taking advantage of rapidly shifting demographics that must be keeping Republican strategists up at night. A Blue Wave is quite possible, but it will take major effort and investment because of course it does.
Bottom line: Give until it hurts.
---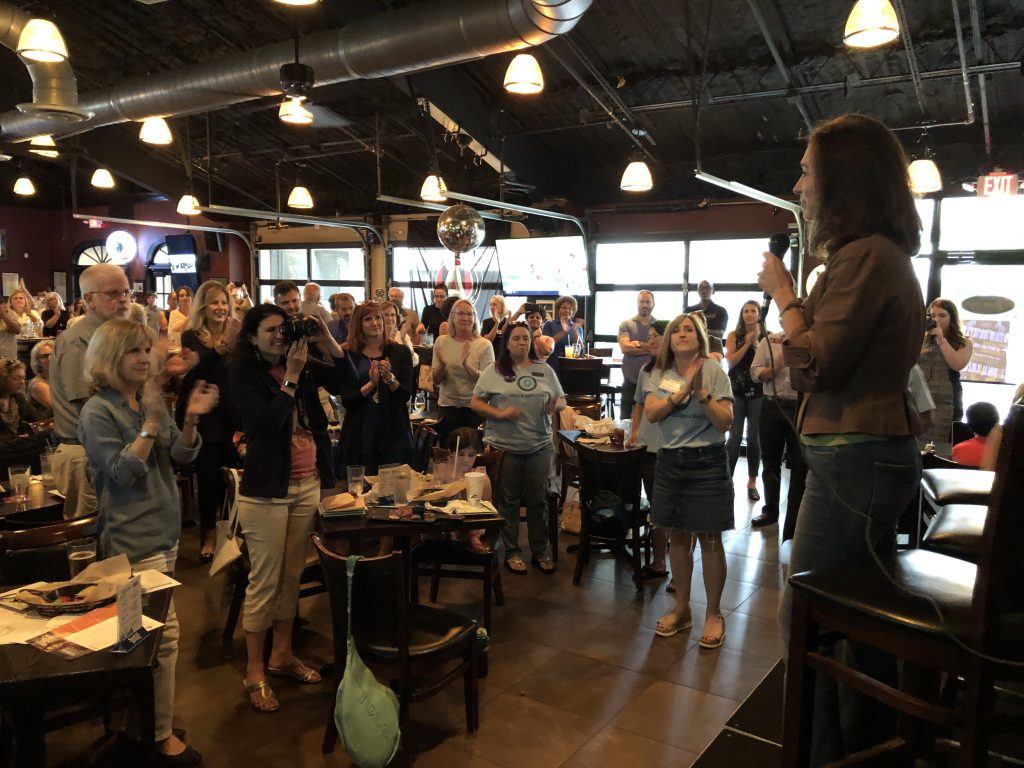 Why Tomlinson? 
A progressive, Tomlinson has the strongest political resume in the Democratic field, having served two terms as mayor of one of Georgia's larger cities. Let's put it this way: If you go to Tomlinson's website, you'll see more than a dozen position papers on issues. If you go to Ossoff's website, you'll see … (checking again) … yeah, a video.
Having a political base outside Atlanta gives her a strategic advantage, as well. She plans to improve on Democrats' recent performance in rural Georgia, and she sounds like she has the fire in the belly to campaign in all of Georgia's counties.
"There's no way (Republicans) win if you run a formidable woman from outside Metro Atlanta who can shave those vote margins," she said. She mentioned a few of the many counties she's targeting: Rabun, Hambersham, Thomas, Wayne (the list is growing quickly), some of which have Republican margins of "75, 80, 85 percent of the vote."
She said she tells local Democrats, "You don't have to flip this county. That's not the objective in this election. You shave that four to five percent … and when you see Fannin is coming in at 5 percent less (for Republicans) than it did in the the Abrams-Kemp race, then you hop in your car and head to Columbus, where we're having one hell of a victory party. That's how we do it, folks."
She's also, more than most other Democratic candidates for federal office, has a history of speaking out about impeachment. She also came up with a plan to save dogs and cats, if that sort of thing matters to you.
And how 'bout that gumption?
Not everyone loved her "Georgia Gumption" campaign at first, but it seems to be catching on.
---
Stump Speech
All in all, she's an impressive candidate. There are more reasons to support her that I'll get to later. As for now I'll let her do the talking. Here's her stump speech from an August Dunwoody event:
---
More information about Teresa Tomlinson:
campaign website
Facebook
Twitter

Liked this post? Follow this blog to get more.