Above: "I love Georgians. The grit. The energy. The determination to make the best even better. That's why I'm running for PSC; to give a voice to those determined to make it better."–John Noel  (Website)
---
Senate Primary: Endorsements keep rolling in for Teresa Tomlinson
By Jonathan Grant
@Barmbleman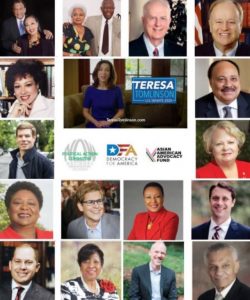 Teresa Tomlinson's surging U.S. Senate campaign received another big boost Monday with the endorsement of A.M.E. Bishop Reginald T. Jackson, who presides over more than 500 African Methodist Episcopal churches in Georgia. Jackson said, "Tomlinson possesses integrity, empathy, courage, and a heart for the people."
A former two-term mayor of Columbus, Tomlinson has lapped the Democrat field in gaining support from elected officials as well as community and civil rights leaders. She has twice as many endorsements as her major competitor, onetime Congressional candidate Jon Ossoff, and more than the other six Democrats in the race combined. She is also leading Democrats in in-state donations, with a $400K edge and three times as many Georgia donors as Ossoff, who relies on out-of-state money to fund his campaign. Read full artilce. Visit Tomlinson's Website
---
For support of Fort Benning, Tomlinson receives St. Maurice Award
---
Georgia Public Service Commission
In addition to the Presidential election and two senatorial campaigns, Georgia has two Public Service Commission seats on statewide ballots this year. Here are a few of the issues we face: Plant Vogtle's skyrocketing costs, green energy, coal ash, and energy equity. Not to mention the price we pay for utilities. So let's not forget about them.As I mentioned, there are two PSC seats at stake this year. Environmentalist John Noel is running against Daniel Blackman in the Democratic Primary for the North Georgia seat. The winner will face GOP incumbent Bubba–that's right, Bubba–McDonald in November.
Unfortunately, Public Service Commission races are receiving absolutely no coverage in the media. Nevertheless, voters are receiving absentee ballots and researching races. Here's some background: I wrote a profile about Noel back in 2017. He ran in 2018, coming in second in the Democratic primary. He's still the same guy, still pushing for change at the PSC.
John now lives in Augusta to run for the District 4 seat. The districts, with their residence requirements, were created a generation ago as an homage and throwback to the old county-unit days. Anyway, it's a statewide race and a contested primary. And I still haven't seen one word about it in the AJC or any specific coverage of the race in any media. So please spread the word: John is a walk-the-walk environmentalist and consumer's best friend. Did you know the PSC set Georgia Power's allowed rate of return above the industry average? John would move to lower that. Want to know more? Visit his website or Facebook Page.
Sign the Petition
Upcoming
Dr. Norton is a career expert in education in the Southeast and someone I am proud to call friend. Join us on Tuesday for "Georgia On My Mind", a town hall focused on the important issues facing GA & what the PSC SHOULD BE doing to help fix them! https://t.co/YH2YiHfqN6 pic.twitter.com/D3KlEIzD3W

— John Noel (@NewEnergyGuy) May 16, 2020
Watch most recent town hall
Check out John Noel's most recent town hall with former PSC candidate Dawn Randolph and State School Superintendent candidate Dr. Otha Thornton. Click here to view:
---
Video: Sticking it to the man! 
And check out this Youtube some indy journalists produce about Noel's environmentalism.
---
Voting Rights
In March, Noel attended an "Emergency" Georgia State Election Board meeting, prepared to give a statement backing the Athens-Clarke County Board of Election's decision to scrap the state's Jumbotron ballot-marking screens and go with hand-marked paper ballots. He was not allowed to give it. The Board didn't want to hear from voters. I wrote about the debacle. You can view my post here.
Democratic nominee Robert Bryant
Robert Bryant of Savannah is the lone Democrat to qualify for the South Georgia seat. He will face Jason Shaw, who was appointed to the PSC by Nathan Deal. Shaw quickly showed his loyalties by voting to raise Georgians' electric rates and allow Georgia Power a higher than average rate of return. Bryant, like Noel, is pro-consumer, so the choice is pretty clear, especially since all PSC members are Republicans. They quit doing their jobs years ago, with some help from the GOP-dominated General Assembly.
You can follow Robert Bryant on Twitter. 

Liked this post? Follow this blog to get more.